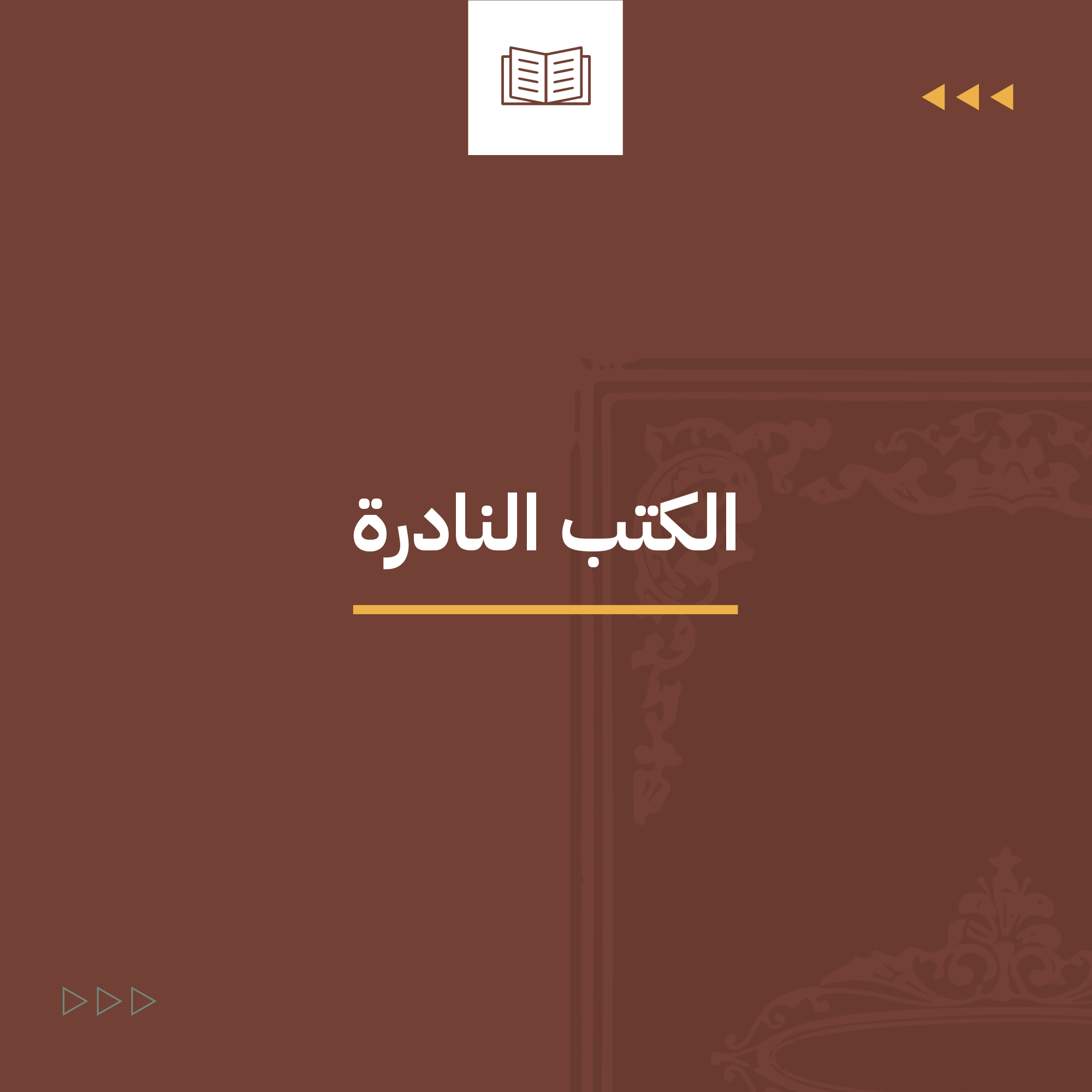 Rare books
Rare books
The Library has acquired distinguished collections of rare books with editions that are unique in terms of their scientific or historical value. They total more than 32,625 titles that are unique in terms of either their edition or their subject matter, and are all available to researchers and other interested people. Rare books fall within the interests and policies of the Library to preserve the Arab printed heritage in the various fields of science and knowledge. These rare books include:
1. A Collection of Rare European Editions
The Library has acquired a collection of rare old European editions, as well as 78 rare books about the life of the Prophet Muhammad and 113 translations of the Holy Qur'an into old European languages, in addition to 55 books on Qur'anic Studies, and 54 books relating to Islamic sources. These represent the beginnings of European interest in the Holy Quran and Quranic Studies.
The Library has also acquired a collection of Arabic editions that were printed in Europe in 1592-1593. These are part of the Library's great interest in the original Arab and Islamic heritage and include very rare books such as: Ibn Sina's Book The Law (Al-Qanun); Abdul-Qadir al-Jirjani's The Secrets of Eloquence (Asrar al-Balagha), edited by H Reiter; Hawliyat Nashr al-Mathani (A Chronology of Events in Fes), composed by Bilyunis Al-Hakim, edited by Osla Weiser; a commentary on Risaghuji's Book (Kitab Risaghuji) by Abu al-Faraj Ibn al-Tayeb, edited by Kwami Jiki; The Islamic Science of Astronomy ('Ilm al-Hay'a al-Islami), composed by Jalal al-Din al-Suyuti, edited by Anton M. Hayinin; Making the Greatest Medicine, by Jabbar Ibn Hayyan, edited by Pierre Laurie, in addition to 1,560 rare books in French and English.
2. A Collection of Rare Arabic Editions
This collection includes 9,750 rare Arabic book titles, indexed, classified and entered into the Arabic Book Information Database.
3 . A Private Library Collection
The library also has a collection of private libraries that it was able to buy with the support of its founder, King Abdullah bin Abdul-Aziz, and add to the growing number of collections it had acquired, especially those containing the rarest documents about the Kingdom of Saudi Arabia, the Arabian Peninsula and Arab countries in general, including:
A. The George Rentz Library
This is the library of the American orientalist George Rentz. It includes many books, manuscripts, maps and rare documents in Arabic, and about 3,265 books in foreign languages that deal with the most important political, historical and geographical events in Saudi Arabia and the Arabian Gulf. He was a contemporary of King Abdul-Aziz Al Saud, and lived through World War II, the establishment of the Arab League, the demarcation of borders in the Arabian Peninsula, and the beginning of oil production (1945-1963).
B. The Hamza Abu Bakr Library
Hamza Abu Bakr is the Dean of the Islamic Institute, and formerly the Imam of the Paris Mosque. His library contains 21,700 titles, in 19,821 volumes of books, periodicals, newspapers, manuscripts, documents and press clippings, important and rare studies and books in Arabic, French, English, German and Russian, and boasting various fields of legal, literary, political and medical sciences, travel literature, national and religious heritage, and human relations. The books in this library can be categorized as follows:
– Rare books on important subjects in Arabic (9,750).
– Very rare books in French, which are in the process of being listed and classified.
– Books of Algerian and Moroccan studies in various fields written in French.
– Collections of dictionaries and encyclopaedias.
– Collections of French periodicals, newspapers and magazines, some dating back to the 19th century, to the world wars and to important events until 1986.
(C) Collections from Multiple Sources
The library includes distinguished collections dealing with the Shari'a sciences and the humanities, travel literature, and descriptions of countries, their heritage, customs and traditions. These groups are of great importance for researchers to study and benefit from.